Several types of hair removal are known. There are some gentle, but not so effective ones and there are those that make skin silky for a relatively longer time. However all the previous treatments need to be repeated from time to time.
Shaving
Probably the most well-known hair removal method, but it causes unpleasant irritation in many cases and hair often appears after a few days.
Depilatory Cream
It is a painless and fast hair removal method, but due to the strong chemicals they can easily lead to allergic reactions and they are not ideal in terms of permanency either.
Epilation
The modern epilators provide a lasting smoothness, however it is still one of the most painful, longest and loudest methods.
Waxing
The most lasting and the most painful method of hair removal at the same time that can have serious side effects, therefore it is worth visiting an experienced cosmetician.
IPL-DPC (Dynamic Pulse Control) Laser Hair Removal
The most effective solution of the generally known hair removal methods which is even more efficient than the previous, traditional IPL technology. The modern equipment does not only offer a personalized adjustment, but also a painless, safe and permanent solution.
Before – after photos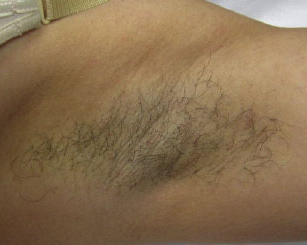 Most frequently depilated areas of the body